Get 14 Days Free Access to the best lessons for you!
FREE for 14 days then just $1.31*/day
(*Billed Annually at $480/year)
Step Inside the Virtual Classroom of...
The Ultimate Online Saxophone School
Over 800 step-by-step, learn-as-you-watch lessons, conveniently organised in over 60,
easy-to-follow courses that make learning more effective, efficient and motivating.
This is no ordinary school. This is the largest, most comprehensive online resource
for learning saxophone on the planet.
Learning is easy with PATHWAYS.
Whether you are looking for beginner skills or advanced lessons, we have a PATHWAY to help you get there. Each PATHWAY is a step-by-step lesson structure so you always know what to work on next
Access Sax School any time on any device
Sax School works seamlessly on PC or Mac, iPad, iPhone, Kindle, iPhone, windows devices or Android. You just need an internet connection to get started and access is 24/7!
Learn anytime you want with full access to the complete library of over 600 step-by-step lessons and courses.
No teacher near you? It's fun and easy to learn on-line!
"I' began saxophone aged 59 and tried a couple of teachers. One was really good but lived 180 miles away. The other was not really on my wave length. Then I became a member of sax school and Bingo! Now I can learn what and when I like, at my own speed. So, that way it stays fun and rewarding!"
Susanne Pearce
Sweden
Easy to follow video lessons - even if you don't read music!
Although every lesson comes with a worksheet you can download, you will learn visually in easy to follow steps with clear explanations.
You're not learning alone, our community is here to help you!
As a Sax School member you never need to feel alone when learning saxophone. You will be part of our thriving, supportive, worldwide community of learners who are here to help you along the way, celebrate your learning milestones, and answer your questions. Plus you'll get to join in on monthly challenges!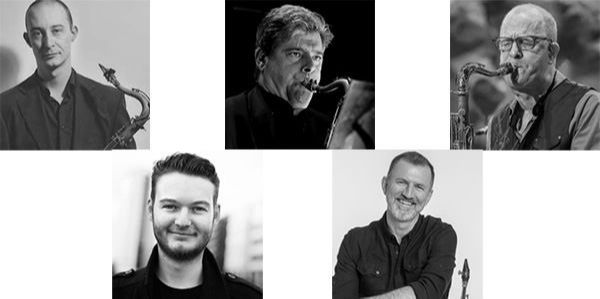 World-Class Tutors to Guide you!
As a Sax School Member you have access to the most amazing saxophone Tutors who are the leaders in their styles. From touring with world famous pop legends Average White Band to running Award Winning theatre productions, and teaching at the most prestigious conservatoires. You are in safe hands!
I'm brand new to sax - will this suit me?
Can I view the lessons off-line?
I don't read music, will these lessons work for me?
Can I use Sax School with the sax I play?
I'm coming back to sax after a break - can you help me?
What if I find Sax School doesn't suit me?
Included with your Sax School Membership:
800+ Lessons for you
Explore the HUGE library of step by step lessons and well structured courses proven to help you make massive progress on your saxophone.
Structured learning with PATHWAYS
Whether you are a new beginner or a seasoned player looking to develop your skills, we have a Lesson Pathway to challenge you with step-by-step lessons and courses proven to help you improve.
Get your questions answered
Our built in Chat feature means you have unlimited support from the Sax School team. Get your questions answered, or get help with what to practice next. We are there for you!
Join a livestream session!
Each month you can join multiple sessions where you can chat with a Tutor, ask questions and get help. You're not learning alone!
A Community to support you!
You'll have exclusive access to our World-Wide Community of Sax School Members for help, support and encouragement.
The 'Best Sax of
Your Life' Guarantee
The most important thing to us is that you love your learning experience and make real progress. If for any reason you don't enjoy Sax School or believe it hasn't helped you play the sax better, we will refund your money in full anytime within the first 90 days.
Join today completely risk free.
Ready to get started?
14 Days free then just $1.31/day
Clear learning Pathways
Tutor Support so you stay on track
Regular Livestream sessions
Exclusive Community Access
Easy cancel anytime
No-Risk 90 Day Guarantee
START MY TRIAL